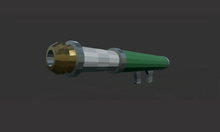 Power: 100
Fire Rate: 2 (seconds between shots)
Clip Size: 2
Ammo: Rockets
Manufacturer: [ Weaptexx Weapons ]
A rocket launcher with a special function that allows the user to toggle the rocket's speed in mid-air.
Hold right mouse button to slow down rocket, release it to go back to full speed.
Control the speed of your rocket and you might be able to outsmart your enemies.
Ad blocker interference detected!
Wikia is a free-to-use site that makes money from advertising. We have a modified experience for viewers using ad blockers

Wikia is not accessible if you've made further modifications. Remove the custom ad blocker rule(s) and the page will load as expected.