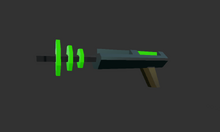 Power: 10
Fire Rate: 0.3 (seconds between shots)
Clip Size: 40
Ammo: Lasers
Manufacturer: [ Unknown ]
The laser pistol will shoot short lasers that can bounce off walls. Can be used for trick shooting and blocking off a passage.
When the aliens crash-landed on Earth in 19XX, this weapon was found and reverse engineered by the appropriate parties
Ad blocker interference detected!
Wikia is a free-to-use site that makes money from advertising. We have a modified experience for viewers using ad blockers

Wikia is not accessible if you've made further modifications. Remove the custom ad blocker rule(s) and the page will load as expected.