"Pump your enemies full of acid, the kind of acid that melt through stuff."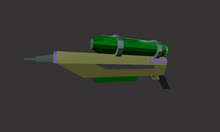 Power: 15
Fire Rate: 0.2 (seconds between shots)
Clip Size: 100
Ammo: Acid
Manufacturer: [ Gorith Industries ]
Essentially a water gun that shoots acid. Learning to predict and control the acid stream is the key to using this weapon.